Precision Abrasives
Product Announcement from Saint-Gobain Innovative Materials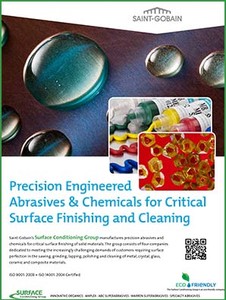 Saint-Gobain's Surface Conditioning Group is comprised of four companies who manufacture precision abrasives and chemicals for the critical surface finishing of most solid materials. Across a diverse range of industries, there is a growing need for surface perfection in the sawing, grinding, lapping, polishing and cleaning processes of metals, crystals, glasses, ceramics and composite materials.
The Surface Conditioning Group manufactures precision graded diamond, CBN (cubic boron nitride), aluminum oxide, zirconium oxide and many other abrasive types either in powder, compound or slurry form to meet customers' increasingly demanding requirements.
In addition to abrasives technology, the Surface Conditioning Group manufactures "green", biodegradable coolants, lubricants and cleaners to enhance machining processes and provide environmentally safe operator working conditions.
ABC-Warren Superabrasives: Mesh and micron synthetic diamond and CBN powders for superabrasive grinding wheel manufacturers and toolmakers
Amplex Superabrasives: Diamond compounds and slurries for critical surface finishing of hard, brittle materials
Innovative Organics: Biodegradable coolants, lubricants, abrasive slurries and cleaners
Specialty Abrasives: Ceramic oxide powders and slurries for lapping and polishing
You can find out more about these Surface Conditioning Group businesses by visiting our web site: www.scg.saint-gobain.com
You have successfully added from to your part list.
---