Catalyst Carrier Materials & Tailored Porosities
Product Announcement from Saint-Gobain NorPro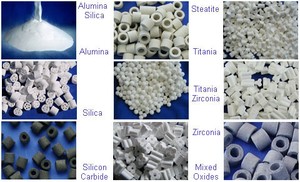 Saint-Gobain NorPro is the world's leading supplier of merchant catalyst carriers in the world. With over 60 years experience co-developing carriers with catalyst clients, we custom engineer the physical and chemical properties in a variety of materials and shapes to provide the optimal proprietary carrier for each customer-specific need.
Our catalyst customers take the carriers and add metals (often precious metals) and dopants to create finished catalysts.
Materials:
Alumina
Zirconia
Titania
Silica
Silicon Carbide
Others
The finished catalysts are installed in processing units called fixed bed or slurry bed reactors.
Petrochemical and refinery plants use catalysts to efficiently convert reactants, increase yield and reduce energy consumption.
We can form almost anything
NorPro® forming technology enables almost anything to be formed into practical shapes. Various extrusion technologies, shaping, UniSphere generation (by a new, unique proprietary process), spray drying, agglomeration and other techniques are utilized. Computational fluid dynamics (CFD) techniques are employed to invent special shapes for particular applications.
Extrudates: from 1.2 mm diameter
Pellets: 3 - > 25 mm diameter. Length/diameter from 0.3 - >2
Rings: 3 - 75 mm diameter. Length/diameter from 0.3 - >2
Spheres: 1 - 13 mm diameter
Other special shapes developed for particular applications: Trilobes, quadrilobes, fluted rings
Visit our brochure for more details: Catalyst Carriers (.pdf)
You have successfully added from to your part list.
---