New Hold Down Media for Fixed Bed Reactors
Product Announcement from Saint-Gobain NorPro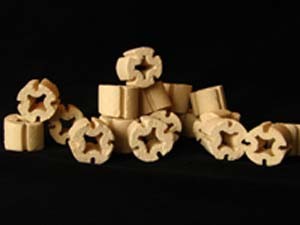 Next Generation Bed Topping (NGBT) Media is the latest innovation in hold down media for fixed bed catalyst applications from Saint-Gobain NorPro.
Saint-Gobain NorPro is an industry leader in developing ceramic media that optimize reactor performance. NGBT media is engineered for use as a hold-down media at the top of graded reactor beds. It's shape offers substantial gains in void fraction and surface area when compared to conventional sphere-shaped media, Raschig rings or other competing media.
The immediate benefit of NGBT media is enhanced flow distribution, which in turn facilitates uniform distribution of feedstock.
NGBT Media (.pdf)
---