Support Media with High Thermal Shock Resistance
Product Announcement from Saint-Gobain NorPro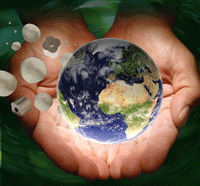 Unrivaled quality and service from manufacturing facilities in Guanghan, China, Steinefrenz, Germany, and Soddy-Daisy, Tennessee USA.
Saint-Gobain NorPro's Denstone® and Denstone® delta® media is the undisputed leader in catalyst bed support media technolgy. No matter where you are in the world, Saint-Gobain NorPro is positioned to meet your needs with impressive product standards, materials and service -- unmatched in the industry.
See our ad in issues of HYDROCARBON PROCESSING and PTQ magazines.
Denstone support media is a proven and well-known throughout the refining and chemical processing industry. Denstone media is unsurpassed and providing the following benefits:
Will not plug bed or catalyst
Will not contaminate
High thermal shock resistance
Will not poison catalyst
See our latest news item concerning Saint-Gobain NorPro's world class manufacturing honors.
---