Bearings for Extreme Environment Applications
Product Announcement from Saint-Gobain Oil & Gas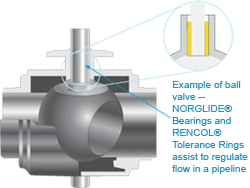 Saint-Gobain's Bearings and Tolerance Rings group is a leader in supplying high volume products that meet the most demanding oil and gas industry applications.
We offer composite bearing and tolerance ring solutions that contribute to save energy, protect the environment, increase lifetime, and improve performance.
NORGLIDE® Bearings: Self-lubricating, lead-free, plain bearings, custom manufactured to reduce friction and provide maintenance-free performance in numerous industrial design applications that require oscillating and rotating motions. NORGLIDE bearings are available with flexible tape or metallic backing.
RENCOL® Tolerance Rings: Radial spring mechanical elements that are positioned between shafts and housings to solve problems with their interaction. Press-fitted between two mating components, they generate a retention force that fixes the components together.
Product benefits:
chemical resistant (inert) with broad compatibility
temperature stability through wide ranges
medium-to-high load capabilities
low friction
no moisture expansion
long-term durability
maintenance free
In addition, our products also provide fluid-noise reduction, no leakage, easy assembly and easier maintenance.
You can get more information by visiting: www.oilandgas.saint-gobain.com
---