Bed Topping & Support Media for Oil&Gas Processing
Product Announcement from Saint-Gobain Oil & Gas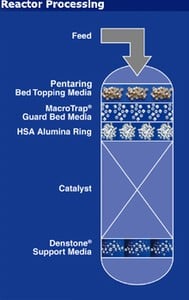 As the oil and gas industry increasingly turns to unconventional production methods...as stranded gas technologies like GTL and LNG continue to develop...as environmental demands for clean fuels increase...as catalytic reactions become more critical to higher yields...and as the importance of ceramic solutions for all of these applications keeps growing, Saint-Gobain NorPro will be there to participate with our clients in the co-development of new materials and technologies to meet the world's increasing needs for energy.
Saint-Gobain NorPro offers high-technology ceramic products for better and longer operation of processing units. Pressure drop problems contribute to costly reactor shut down, skimming and restart. NorPro® products provide protection from plugging and contamination, insuring longer catalyst life and improved pressure drop.
NorPro® products are classified as follows:
Catalyst carriers, custom-formulated from a range of materials including alumina, titania, zirconia, silica, silicon carbide, and others, as well as various mixtures of them all.
Mass transfer, heat transfer, and support media products with materials and shapes engineered for superlative corrosion resistance, high efficiency, and low pressure drop,
Refinery products for the widest range of top bed solutions and catalyst bed support media for all kinds of reactors and vessels.
NBGT™ (.pdf): Next Generation Bed Topping (NGBT) Media material with the highest void fraction (62%) available.
MacroTrap® XPore 80 highly macroporous ceramic media (.pdf): For the prevention of premature pressure drop rise caused by particulate deposition on catalyst and absorbent beds, and installed in over 200 units worldwide.
Catalyst carriers (.pdf): The world's widest range of standard and custom catalyst carriers. Carriers are tailored to the requirements of the application and can be formed into extrudates, pellets, rings, spheres, or other specialized shapes. Low attrition spray dried carriers also available.
Denstone® ceramic bed topping and support media (.pdf): The industry standard for several decades. Denstone® 2000, 99, 57 catalyst bed support media provide unmatched impact resistance, thermal shock, crush strength and survivability.
Denstone® deltaP® support media (.pdf): The most advanced bed support media for fixed bed applications.The unique-non-spherical shape provides improved operating performance and cost-saving bottom line results through reduced pressure drop and fewer layers of media.
Thermal Management Media (.pdf): Advanced material compositions and shapes for optimal process performance.
---