Coated Fabrics for Extreme OIl & Gas Applications
Product Announcement from Saint-Gobain Oil & Gas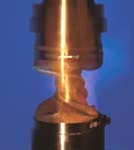 Coated fabrics, produced by Saint-Gobain Performance Plastics, are widely used throughout the oil and gas industries.
Our PTFE-based products include expansion joints, flexible floating roof seals for oil storage tanks, wire and cable insulation for downhole pumps, and insulation jacketing. Their high strength stands up to the severe environments in which they are utilized, and specific properties such as high temperature resistance, enhanced flex and dielectric insulation deliver excellent performance in conditions that are thermally extreme, chemically hostile and mechanically severe.
Coated Fabrics Products
Darlyn® expansion joint composites (.pdf): High strength fiberglass fabrics coated with a patented blend of perfluoroplastic and fluoroelastomer resulting in extraordinary strength retention and superior flex properties, laminated with a cast PTFE film barrier to enhance service life in the most demanding applications .
Flueflex® expansion joint composites (.pdf): High strength fiberglass fabrics which are coated with a specially formulated fluoropolymer coating designed to provide enhanced flex properties and excellent high temperature performance, and then have a cast PTFE film laminated to provide superior gas barrier properties.
Chemfab® coated fabrics (.pdf): Excellent temperature, chemical, and fire resistance, release surface, weatherability, and dielectric properties.
Chemlam® CPI composites (.pdf): PTFE/glass composites designed specifically for floating roof seals on petroleum storage tanks.
---