Hot-Pressed Silicone and Boron Nitride Components
Product Announcement from Saint-Gobain Oil & Gas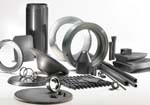 Saint-Gobain Ceramics, Structural Ceramic, offers vast resources to meet your needs for wear-resistant materials for oil and gas energy industry applications.
We provide ceramics with cost effective solutions offering high corrosion and erosion resistance properties supplied as finished components (e.g. ceramic nozzles and valves), unfinished machined blanks, pressed near net shape blanks, high volume pressed net shape components, and complex, highly machined parts.
Hexoloy® silicon carbide
Our Hexoloy® SiC material (.pdf) offers broad manufacturing capabilities to meet your size, shape and tolerance requirements. A superior alternative to metals, tungsten carbide and other alumina ceramics for efficiency, uptime and reliability.
Norbide® hot pressed boron nitride
One of the hardest materials known and offers excellent chemical and wear resistance for demanding applications such as blast nozzles, monument nozzles and armor components. Components made with Norbide® (.pdf) B4 C offer longer service life which can translate into lower costs, reduced maintenance and less downtime for many applications.
Noralide® NBD-200 hot pressed silicone nitride
Offers a combination of characteristics that make it an ideal material for seal face components in nuclear applications, as well as other applications where maximum fracture toughness and flexural strength are required. Hot-pressed for maximum strength and density, Noralide® (.pdf) Si3N4 provides better fracture resistance than other ceramic materials.
---