Proppants Selection for Hydraulic Frac Treatment
Product Announcement from Saint-Gobain Oil & Gas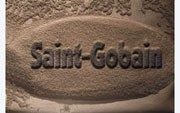 In hydraulic fracture treatment design, the engineer evaluates the propped geometry of the fracture to be created and determines the volume of proppant necessary to fulfill that objective. The results are a designed length and proppant-pack concentration in the fracture. Several SPE papers have been written on the conductivity required of a proppant pack to produce an effective fracture length. PropSelect™ used a dimensionless Conductivity Factor (Cr) of 10 to determine the conductivity required to produce the desired effective fracture length.

Once the necessary conductivity is calculated, PropSelect™ evaluates the ability of each proppant type to deliver the required conductivity. Given the design criteria input of Maximum and Minimum proppant-pack concentrations, PropSelect determines the lowest cost solution and presents the 5 lowest cost proppants. The estimated cost of each proppant is presented so that cost savings may be reviewed.
You have successfully added from to your part list.
---