Refractory Ceramics for Ammonia-Methanol Plants
Product Announcement from Saint-Gobain Oil & Gas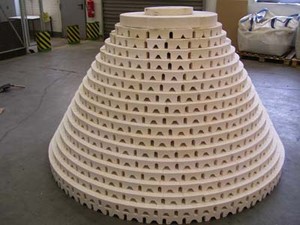 Catalytic steam reforming is used in the industrial synthesis of ammonia and methanol from natural gas or other feedstocks. A variety of refractory materials are required in the primary reformer, secondary reformer and waste heat boiler of ammonia plants and in the methanol reformer of methanol plants. Ceramic bed support media are required in the feed desulfurizer, secondary reformer, high and low temperature shift reactors, methanator and dryers.
In ammonia production, the hydrogen rich atmosphere of the secondary reformer requires high purity alumina refractory products. Saint-Gobain Refractories are widely used in the linings of secondary reformers and are approved by the major design and engineering companies.
Saint-Gobain has the expertise to design, engineer and manufacture refractory systems for most of your demanding high temperature applications. For further information, select the link for Ammonia and Methanol Processing (.PDF).
Select to learn more about Saint-Gobain Refractory products.
---