Product Announcement from Saint-Gobain Plastic Films and Tapes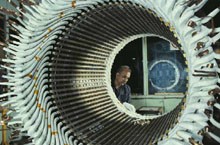 CHR® tapes for electrical insulation applications center around dielectric strength and operating temperature. Whether it's coil winding, end tabbing, outer wrapping, harness protection or potting cable ends, these tapes cover most of the demanding industrial electrical needs. Electrical isolation is mostly about conductivity. Saint-Gobain performance Plastics produces a variety of foil tapes formulated to shield your most important electrical cables, cabinets and individual components.
Film Insulation
Polyester film tapes are produced from electrical grade strength, high quality, optically pure film with consistent, minimum dielectric resistance of 5kV for 1.0-mil, 7.0kV for 2.0-mil and 10kV for 5.0-mil tapes, regardless of adhesive type or insulation class.
Polyimide film tapes, made from thermally produced, oriented film, offer distinct advantages over polyester film:higher dielectric strength and higher temperature resistance. PI film of 1.0 mil offers 6.5kV, 2.0-mil film is rated at 10.0kV and 5.0-mil film delivers the ultimate one-wrap dielectrics of 17.0kV.
PTFE-based films provide economical resistive qualities and non-stick properties important in may wire and cable applications. Dielectric strength varies with media density, but generally 2.0-mil film offers 7.5kV, 3.0-mil film is rated at 10.0kV and 5.0-mil PTFE film delivers around 13.0kV of electrical resistance.
Fabric Insulation
Woven fiberglass cloth has traditionally been an excellent insulation material for harnesses and coil winding in motor assemblies. Available in a standard 7.0-mil-thick package and heavy duty grade at 10.0 mils, adhesive selection allows the user to bridge insulation classes from 130°C (rubber adhesive) to 200°C (silicone adhesive).
Foil Isolation
Both aluminum foil and copper foil make superior electromagnetic and radio frequency absorption and isolation media due to their natural conductivity, flexibility and malleability. Coated with adhesives to enhance conductivity and thermal management, these CHR tapes are frequently used in end connectors and shielded cabinets and devices.
Features/Benefits
Prevents Plating solution Undercutting
Stands Up to Multiple Operating Cycles
No Re-work Required
No Adhesive Residue
Greater Operator Safety
Excellent Temperature and Chemical Resistance
Select for a brochure detailing details of CHR® Pressure Sensitive Adhesive Tapes for Electrical Insulation and Isolation applications.
You have successfully added from to your part list.
---