Plastic Tubing & Engineered Plastics in Aerospace
Product Announcement from Saint-Gobain Performance Plastics - Process Systems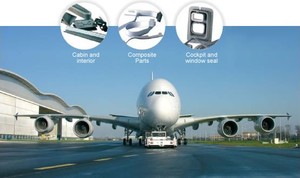 Saint-Gobain has over thirty years of know-how in the field of silicone formulation linked with innovative technological development and production in offering innovative technical and personalized solutions for major programs in civil and military aviation.
Silicone elastomer is a high performance material and offers high temperature resistance, inflammability, good compression set and mechanical properties, amongst other qualities, to satisfy the most distinguished demands in the high-performance domain of aeronautics. Our joints are produced with the most innovative procedures available in moulding and extrusion technology.
PTFE 1:2 and 1:4 allows production of tubing with protection against impact and humidity.
Products are utilzied in in cabin and interior, composite parts, cockpit and window seals.
In addition, Tygon® tubing delivers an uncompromising standard of consistent quality and performance in fluid handling applications used in aeronautics.
---