Silicone Solutions for Aircraft Cabin and Interior
Product Announcement from Saint-Gobain Performance Plastics - Process Systems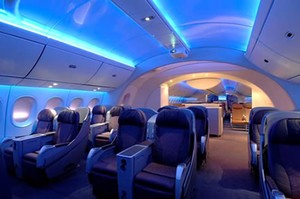 Over 30 years of know-how in the field of silicone and fluoropolymer formulation linked with innovative technological development and production allow us to offer innovative technical and personalized solutions for major programs in civil and military aviation.
Saint-Gobain products offer high temperature resistance, inflammability, good compression set and mechanical properties, among other qualities, to satisfy the most distinguished demands in the high performance domain of aeronautics.
Cockpit and Window Sealing Systems: We tailor and customize solutions for specific uses and needs to ensure windows and windshields maintain the highest safety standards.
Interior Cabin Components: High-performance silicone sealing technologies for specialized floor-to-floor applications, aircraft monuments, and galleys. We guarantee interior components are watertight and airtight while offering abrasion and friction resistance through the incorporation of fabrics and proprietary coatings.
Structural Components: Every part of a modern aircraft must meet the industry's stringent performance requirements. We provide components like door sealing gaskets, belly fairings, trim seals, rudder seals and pylons, which must adapt to the most extreme and hostile conditions.
---