Smooth Bore Hose
Product Announcement from Saint-Gobain Performance Plastics - Process Systems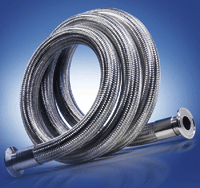 Saint-Gobain Performance Plastics provides an in-depth view of the full range of products available from the Flexible Components brand of Smooth Bore Hose.
Chemfluor® fluoropolymer extruded tubing sets the industry standard for chemical and corrosion resistance, ease of use, and compliance with all key industry standards.
Our S.I.B. (smooth inner bore) technology provides a totally seamless transition between hose and fitting, virtually eliminating the problems caused by particle entrapment in standard barb assemblies and simplifying maintenance.
Our unique Flare-Thru fitting design ensures that the material being conveyed contacts only pure, non-contaminating Chemfluor® fluoropolymer tubing from end-to-end.
---