Coolant for Fixed Abrasive Wire Slicing
Product Announcement from Saint-Gobain Surface Conditioning Group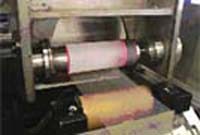 Diamond Wire Slice Vehicle for Sapphire Cutting
Saint-Gobain's AmberCut™ DWC-25 is a synthetic wire slice vehicle specifically formulated for the cutting of sapphire, germanium, single crystal SiC and II-VI crystals, using a fixed abrasive wire.
It provides excellent cut rates and imparts outstanding surface finishes with reduced warp and TTV. AmberCut DWC-25 offers superior dispersion of kerf particles and cooling of the cut zone. Additionally, AmberCut DWC-25 exhibit extended use life allowing the slicing of multiple ingots while maintaining performance properties. This unique formula is biodegradable, water rinsable and will not leave films or residues. This coolant is used with fixed diamond wire saws to slice sapphire and other hard crystalline materials such as silicon carbide. Sapphire wafers are used by LED manufacturers and silicon carbide, SiC wafers are used by LED and power device manufacturers. This vehicle will promote efficient sawing and promote increased sawing wire life.
Product Features
Provides excellent cut rates and outstanding surface finishes
Superior particle dispersion
Reduced warp and TTV
Biodegradable and poses no environmental or health risks
Minimal contamination of parts
Water rinsability facilitates cleaning
You have successfully added from to your part list.
---