D200 Series DC Rated Switches up to 1000V
Product Announcement from Salzer USA Corp.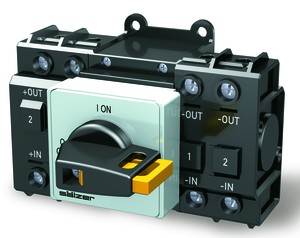 The New D200 Series (DC rated switches up to 1000V)
With the new D200 Series, Sälzer is now in a position to supply a new kind of switch that has been developed for today's applications. Its main focus is to provide safe, low-loss and permanent switching of DC loads. It supports processes where the currently available switches for DC and AC have reached their limits.
The new D200 system also contains an additional arc reduction system for voltages of 800 V DC to 1000V DC and achieves a high level of thermal stability with minimal current heat losses.
Product features
Double-break per contact stage
Very high level of long-term stability of switching parameters
Operator-independent switching action
Forced opening of contacts when switching on and off
Compact design with standard overall height for all capacities
Complies with IEC 60947-3 and VDE 0660
Unlock a wide range of applications for yourself
Wind turbines and photovoltaic systems
Inverter systems for photovoltaic
EV charging points/eMobility
DC electric motors (as the main switch or maintenance switch)
Rail sectors
Battery chargers and recharging stations
---