Defeatable Operator
Product Announcement from Salzer USA Corp.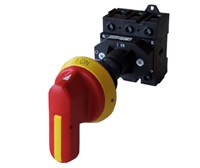 The new operator modules have been developed 4RD1 (black/black) for Main switches and 4RD4 (red/yellow) for Main/Emergency-Off switches of the product line H400 as a base mounting switch with door clutch, door interlock and metal shaft extension and fulfills all requirements of the IEC and the UL508A.

4RD1 and 4RD4 (IP66) own a single hole mounting Ø 22.5 mm and can be pre-mounted in the switch cupboard door. Door clutch and door interlock are integrated. The metal shaft extensions are variably adjustable in the length and to order separately. Accordingly of the product line H400 the different mounting form modules which are described in the suitable catalogs and manuals are available to the respective basic switch module.

The override function allows authorizing persons at servicing work to outwit the door inter-lock in the ON position by means of special tools.

At most the switch cupboard can be bolted by the operator module with 3 padlocks in the OFF position of the switch.
---