Military UV Air Treatment Systems
Product Announcement from Sanuvox Technologies, Inc.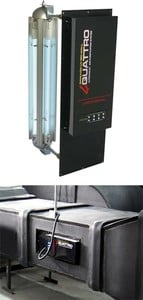 Maintaining a sterile environment on the battlefield within a mobile cleanroom requires a versatile UV system. Protecting occupants of an office building from Biological Warfare Agents require a UV systems able to deliver the intensity to deacativate contaminants such as Anthrax and Smallpox. Sanuvox Technologies offer both portable as well as in-duct air sterilization sytems.
Benefits include:
Our systems have been tested by the EPA and National Homeland Security Research Center to destroy up to 99.97% of Biological Warfare agents on a single pass
Our systems dramatically improve facilities indoor air quality by destroying airborne bio-chemical contaminants such as viruses, bacteria, mold, chemicals and odors.
Our systems improve equipment efficiency while reducing energy costs.
Our systems are considered a "Green" Technology
Sanuvox Technologies Inc. is a global leader in ultraviolet air
treatment providing the most advanced cost-effective In-Duct &
Stand-Alone UV Air and Coil Sterilization Systems available. Proprietary
Sanuvox UV Systems are designed to maximize exposure time delivering
the Ultraviolet energy required to deliver exceptionally high airborne
disinfection rates.



In-Duct & Stand-Alone Sanuvox systems are used around the world
in residential, commercial, institutional, medical and military
installations and has been widely accepted to be the most effective air
sterilization systems available.



Established in 1995, Sanuvox Technologies mission was to design a
line of residential and commercial UV Air Sterilization Systems that
would address Indoor Air Quality (IAQ) issues and Sick Buildings. For
more than 17 years, our continued investment into research &
development and our drive to bring the latest technologies to market has
produced a line of Residential and Commercial Air Purification Systems & Commercial UV CoilClean pro
You have successfully added from to your part list.
---