Product Announcement from Sanyo Denki America, Inc.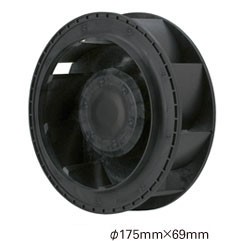 SANYO DENKI CO., LTD. has developed four splash proof centrifugal fans models for the "San Ace W" series.

We have achieved IP54*1 water and dust resistant performance, industry's top energy savings and sound pressure level, and industry's top level large flow and high static pressure.*2

These products are suitable for equipment used outdoors such as mobile communication base station or heat exchanger.
Features
Splash proof and dust resistant
Protection class IP54*1 water and dust resistant performance.
Maintains safe operation even in harsh environments.
Energy saving and low sound pressure level
Achieved energy saving and sound pressure level that is the highest in the industry with no increase in size and air flow. *2
Large air flow and high static pressure
Achieved industry's top large air flow and high static pressure with no increase in size. *2
*1"IP54" is a protection specification for protection against water sprays and dust.
It is based on IEC (International Electrotechnical Commission) and JIS (Japanese Industrial Standards) and specified as follows.
⋅Ingress of dust is not entirely prevented, but it must not enter in sufficient quantity to interfere with the satisfactory operation of the equipment; complete protection against contact.
⋅Water splashing against the enclosure from any direction shall have no harmful effect.
*2The information in this release is current as of February 9, 2010.
The above data is based on our own research, collected among same size centrifugal fan for industrial use.
Lineup
4 models: ø100mm×25mm, ø133mm×91mm,?ø150mm×35mm, ø175mm×69mm
You have successfully added from to your part list.
---