Product Announcement from Sauer-Danfoss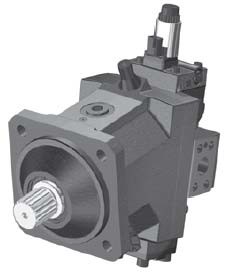 For more than 40 years, Sauer-Danfoss has been developing state-of-the-art components and systems for mobile machinery used in off -highway operations around the world. They have become a preferred supplier by offering the best of what really matters: The hardware inside your vehicle application.
H1 - the new generation of servo-controlled hydrostatic pumps and bent axis variable motors - is no exception. The H1 range is built around an advanced electrical control and available in a wide range of displacements. It is designed for quality and reliability and offers expanded functionality, greater total efficiency, and easy installation.
All H1 control and sensor options are PLUS+1 Compliant. PLUS+1 allows you to rapidly develop and customize electronic machine control. It opens up the future by combining machine controls and diagnostics in an integrated operating network.
The H1 Motor is an AE50 Award Winner.
Features
Designed for quality and reliability
Proven and optimized 9 piston rotating group
Single piece housing
Electric components with IP67 & IP69K rating
Installation and packaging benefits
Optimized for shortest length
Standardized connector interface
Integrated loop flushing device
Radial or axial high pressure ports
Optimized for electric control
Electric Two-position Control
– Pressure Compensator Override
– Proportional Pressure Compensator Override
– Brake Pressure Defeat option
Electric Proportional Control
– Pressure Compensator Override
– Brake Pressure Defeat option
Common controls across the entire motor family
Plus+1 Compliant control and sensor options
Expanded functionality
Zero degree capability together with a high performance 32 degree maximum angle
Enhanced control functions with proportional controls de-energized at minimum or maximum displacement
Optional integrated speed sensor with
– Dual redundant speed sensing
– Direction indication
– Temperature sensing
– Wire fault detection
Greater total efficiency
Minimized losses
Improved at high flow conditions
You have successfully added from to your part list.
---