Automotive Solutions Offered by Schaffner
Product Announcement from Schaffner EMC Inc.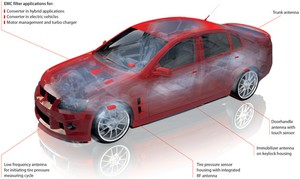 These applications benefit from Schaffner's broad expertise in electromagnetic fields. Using special antennas in the car, information is exchanged between a microchip in the keyless entry system and the in-car computer. This communication can be used to open door locks automatically, trigger the immobilizer, and even make individual adjustments to the seat position. In the TPMS, an air pressure sensor alerts the car's central computer if there is a drop in pressure in one of the tires. In all these applications, Schaffner antennas guarantee the connection between computer and microchip.
Schaffner offers components for hybrid and electric automotive technology!
The Schaffner competence for solving EMC problems is increasingly becoming important in hybrid and electric automotive technology. High performance dc-dc converters lower the potential of the high-voltage batteries to the required level of the vehicle power supply or the electric motors, or step it up again for battery charging. Schaffner components and modules reliably eliminate the electromagnetic interferences generated as a by-product of converter switching.
Schaffner is also the right point of contact for driver and passenger safety concerns because of leakage currents as well as for grid-tied battery charging.
You have successfully added from to your part list.
---