Adjustable Switching Point Hinged Interlock Switch
Product Announcement from Schmersal Inc.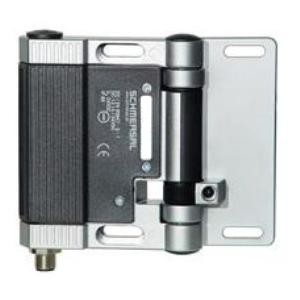 Series TESF
Adjustable Switching Point Hinged Interlock Switch
Description
The TESF Series is designed for use with movable hinged machine guards which must be closed for operator safety. Their tamper-resistant design and positive-opening NC contacts provide a significantly higher level of safety than conventional, spring-driven limit switches or proximity switches often used to monitor hinged guard positions.
Their compact, low-profile design and IP65 rating make them ideal for interlocking hinged safety guards in industrial environments. Designed to mount directly on the hinged guard and its stationary frame, it is easy to install on a wide range of extruded aluminum guard sizes and other guard styles.
Among its unique features is its ability to adjust the switching point in the field to meet specific application requirements. Once adjusted, the switching point is easily permanently locked to prevent further adjustment by unauthorized personnel. In addition, it features top or bottom cable entries, 1 NO or 2 NO and 2 NC contacts, designs suitable for inside or outside-guard mounting, and the ability to open a full 180°.
Features & Benefits
Tamper-resistant … integral switch elements and actuator prevent bypassing.
"Positive-break" NC contacts … ensure circuit interruption when guard is opened to user's desired switching position (angle of opening).
User-selectable switching point … makes unit suitable for a wide range of applications.
Models available for inside-of-guard or front-of-guard mounting … for application versatility.
Choice of top or bottom cable entry … for installation flexibility.
Permits wide guard opening … up to 180°.
Splash-proof design … meets IP65 environmental requirements.
Slotted mounting holes … permit installation to most 30mm to 60mm aluminum profiles.
Rugged construction … tolerates mechanical abuse and hostile environments.
Meets rigid safety standards … UL, CSA, & BG (in preparation).
Operation
The installed TESF features two integral contact blocks … each featuring a NO and a NC contacts. NC contacts are positive-opening, while the NO contact(s) may be used for signaling purposes. The electromechanical switch elements are actuated when the hinged guard is opened to the user's desired switching position (angle of opening). At this point the unit's positive-break, normally-closed contacts are forced to open by a direct (non-resilient) actuating mechanism, while the normally-open contacts close. The opening of the positive-break NC contacts ensure circuit interruption and machine stoppage.
Please click on the links to the left for more information.
---