Safety Limit Switches
Product Announcement from Schmersal Inc.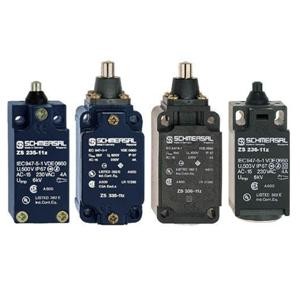 Schmersal standard safety limit switches are designed for use with moveable machine guards/access gates which must be closed for operator safety---and for any other presence/position sensing application normally addressed with conventional limit switches. Their positive opening NC contacts provide a higher degree of reliability than conventional spring driven switches whose contacts can weld or stick shut.
Features & Benefits:
· Metal and plastic versions in both full-size and miniature models…for application flexibility.
· Watertight design…meets IP67 requirements.
· Corrosion-resistant housing…tolerates hostile environments.
· Slow or snap action contacts…to best satisfy application requirements.
· Multiple actuator styles and four 90 degree head positions…provide application versatility.
· Meet rigid safety agency standards…BG,VDE,UL and CSA
---