New MONORAIL Absolute Linear Encoder
Product Announcement from Schneeberger Inc.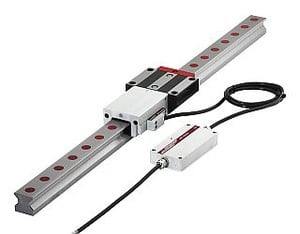 Schneeberger, Inc. is pleased to announce its new absolute linear encoder AMSABS-3B and -4B, which resulted from further development of the world's first combination guideway and linear encoder, the MONORAIL Advanced Measuring System or AMS. AMSABS is an integrated, absolute distance measuring system, available as an option on all sizes of Schneeberger Ball and Roller Monorail linear guides. AMSABS uses safe magneto-resistive sensing technology. Schneeberger introduced its first integrated measuring solution over 20 years ago and now delivers to OEMs and services end-users worldwide.
The Schneeberger absolute linear encoder AMSABS has the same significant benefits as our previous generation incremental AMS systems:
Reduced geometric, thermal and deformation errors. Higher accuracy is achieved because the integrated measuring and guide system can be located closer to the machining process.
Reduced cost, because the integrated system eliminates the need for additional precision mounting surfaces and bracketry
Shorter assembly time, since the encoder is already integrated and requires no additional alignment
High reliability in unforgiving conditions, because a magnetic encoder system is much less susceptible to contaminants such as moisture, oil, grease, or dirt, than an optical encoder
It's Green! Saves energy by eliminating the continuous flow of compressed air needed to protect most optical encoders from contaminants
Accuracy:
± 5 microns per 1000 mm
± 2 microns over 40 mm
< 0.5 micron hysteresis
Max. 0.1 micron resolution
Interface:
Siemens synchronous serial interface with analog output
Fanuc serial interface
SSI (Synchronous Serial Interface)
In addition, the new AMSABS achieves even greater reliability, durability and signal quality by utilizing state-of-the-art semiconductor technology and advanced materials in the design of the magneto-resistive scanning head. AMSABS scan head glides on the magnetic scale embedded in the profiled linear guide. Electronics are potted in epoxy, then laser welded into metal cases which provide IP68 protection, meaning they can operate submersed in liquid.
AMSABS is available on rail lengths up to 6m. Customers may benefit from reduced inventory because a single scan head fits all rail sizes. Rails, carriages, and scan heads can be changed independently. They are not matched sets.
The AMSABS scan head can be exchanged within minutes, secured with only two screws. The scan head self-aligns as it slides into the carriage housing so neither special training nor factory assistance is required. As it slides into place, the absolute position is sensed on the scale embedded in the profiled rail. No other adjustment is needed.
AMSABS delivers the greatest value in harsh machine tool environments, but may also be an excellent choice for handling and automation applications where installation space is limited or minimizing assembly time is critical.
---