MSQ: New Minislide - No Cage Creep
Product Announcement from Schneeberger Inc.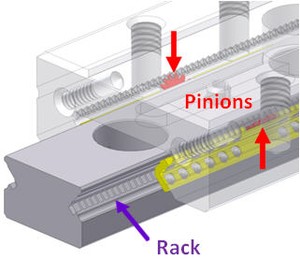 Challenging applications demand exceptional guideways. Schneeberger's MINISLIDE embodies the newest generation of miniature slides for extremely demanding applications. They are highly robust and reliable in every application due to their smooth performance, precision and long service lifetime.
The MINISLIDE range covers six main sizes each available in different standard lengths.
Features include:
MS in sizes 4 & 5 (cage centering mechanism)
MSQ in sizes 7, 9, 12, and 15
MSQ and standard MS have same envelope dimensions
MSQ has 2x higher rigidity than standard MS
MSQ 4-row, 2-point bearing contact for smoothest motion
MSQ rack and pinion design eliminates cage creep
Preloaded for zero-play precision
PEEK ball cages, pinion, end pieces enable 10-9 mbar UHV application
Operating temperatures up to 150ºC
Customer-Specific Solutions
Schneeberger's many years of experience in linear technology have gone into the concept and design of MINISLIDE. Due to its outstanding performance parameters, MINISLIDE sets a standard for quality in any application. MINISLIDE is designed for universal use. It can also be customized at the factory for specific customer requirements. Schneeberger offers, amongst other things, the following services: defined push force, special lubrication (vacuum, extreme temperature, etc.), special packaging, and customer-specific designs).
Precision within the smallest envelope
MINISLIDE is used wherever high-precision and process reliability is required within a limited space. Through its unique advantages, MINISLIDE is especially suitable for the following applications:
Biotechnology
Laboratory automation
Medical technology
Metrology
Micro automation
Micro machining
Nanotechnology
Semiconductor industry
Surface finishing
Optical industry
Robotics, pick & place
Download the MINISLIDE Catalog for additional information.
---