Monorail BZ 35
Product Announcement from Schneeberger Inc.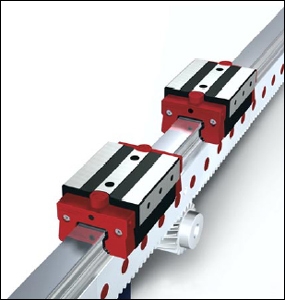 Schneeberger, Inc. introduced a new profile linear guide with integrated toothed rack drive. The MONORAIL BZ 35 extends the performance of the MONORAIL BM by connecting highly accurate toothed gear segments creating a unified linear guide and rack that is ready for fast installation with a pinion drive. This unique design allows for a high degree of accuracy in processing and positioning at high speeds and high accelerations as well as a longer service life.
Low friction and low stroke pulsation are achieved due to the optimized corner and bedding-down geometry. In addition, a high degree of rigidity and large static and dynamic load-bearing capacity are achieved because of the four rows of ball bearings, a two-point contact, and an o-shaped geometry with a trapezoidal track profile. The MONORAIL BZ35 reduces manufacturing and assembly costs up to 25% compared to a system that assembles rack and pinion technology separately from the linear guides. By combining the guideway and gear teeth, only two rather than three assembly surfaces are necessary. Several independent tasks involving motion can be carried out on one BZ system, thus further contributing to the economic viability and space efficiency.
The ultra high speeds and high accelerations of the BZ MONORAIL are an ideal solution to the typical requirements in the handling and automated manufacturing industries. Because the BZ can handle huge forces, its reliability has proven successful in demanding applications used in wood processing machines. Optimal use of the BZ'S design advantages can also be seen in laser and water jet cutting machinery.
Single lengths of up to 2,000mm are available in the 400mm module, and single lengths of up to 6,000 mm are feasible without a joint required. By lining up several BZ systems next to each other, even larger paths of travel can be achieved without loss of accuracy. The ground and hardened tooth rack with its angular tooth system module 2.5 permits a flexible run with the maximum transmission of power at a corresponding quality of five.
Schneeberger Inc., one of four subsidiaries of W. Schneeberger AG, headquartered in Switzerland, markets precision linear motion components and systems for demanding applications. Products include ball and cross-roller bearings, miniature slides and rails, profile guides, automated linear and rotary modules, multi-axis positioning systems, and precision ball screws. Based in Bedford, MA, Schneeberger, Inc sells directly through regional sales offices located throughout the US. For more information contact Schneeberger.
---