NDN Stainless Steel Linear Positioning Slides
Product Announcement from Schneeberger Inc.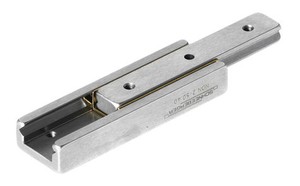 Schneeberger Inc. has announced its NDN family of high precision, stainless steel linear positioning slides. The NDN slides deliver high precision linear motion in an extremely compact envelope and are factory preloaded for optimal stiffness and smoothness. Available in three sizes, with overall height as low as 4mm, this single axis slide is made of corrosion resistant steel and has a unique cage centering mechanism to prevent cage creep. Cage creep is a phenomenon typically found in high acceleration or high vibration applications that causes a gradual loss of stroke distance over time.
Consisting of only four components, the precision ground lower base and upper saddle are made of stainless steel, the ball cage is made of brass, and the rolling elements are also stainless steel. This construction provides play-free, smooth motion with high load capacities, high corrosion resistance, and minimal need for maintenance or lubrication.
These tables can be used in a variety of design orientations and are well suited for semiconductor, manufacturing, robotics, and other applications requiring fast, accurate and dependable motion control in confined spaces. Strokes range from 5mm-70mm, load capacities from 5 to 85 pounds, lengths from 10mm to 80mm, and typical straightness and flatness of travel accuracies are 2 to 4 microns.
Schneeberger Inc., one of four subsidiaries of W. Schneeberger AG, headquartered in Switzerland, markets precision linear motion components and systems for demanding applications. Products include ball and cross-roller bearings, miniature slides and rails, profile guides, automated linear and rotary modules, multi-axis positioning systems, and precision ball screws. Based in Bedford, MA, Schneeberger, Inc sells directly through regional sales offices located throughout the US. For more information, contact Schneeberger.
---