Type N/O Linear Bearing for Use With Needle Cages
Product Announcement from Schneeberger Inc.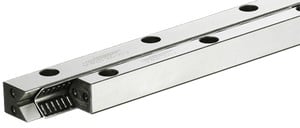 The N/O linear bearing has been designed for use with needle cages. These anti-friction guideways are suitable for high-load applications. Together with the closely arranged needle cage the bearing has a very high rigidity. The SCHNEEBERGER plastic and steel composite cage used in these guides gives less resistance to motion than similar needle cages.
Type NO Material:
SCHNEEBERGER linear bearings are normally manufactured from tool steel No. 1.2510 or 1.2842. The hardness is between 58 and 62 HRC, or min. 54 HRC for certain corrosion resistant models (material No. 1.4125). The whole SCHNEEBERGER rolling element range is made generally from bearing steel No. 1.3505. The hardness is between 58 and 64 HRC, or min. 56 HRC for corrosion-resistant models.
Special version:
The comprehensive standardized program is complemented as the situation requires with special models so that every desired, technically optimal design can be realized. We can supply complete solutions specific to the application conditions.
· Sizes - 62015, 92025, 2025, 2535, 3045, 3555
· Lengths - 200 to 1600mm
---