CALMARK™ CARD-LOK™ Retainers
Product Announcement from Schroff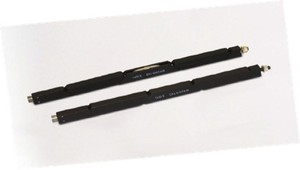 Overview
Schroff® CALMARK™ Series 223 and 224 CARD-LOK™ Retainers secure board module assemblies to the cold wall in cold plate/heat exchanger applications-with no torque wrench required. CARD-LOK Retainers employ a screw-actuated wedge action that locks the board module assembly in place with the use of a standard hex wrench.
Features
Torque-limiting design provides a safe, firm clamping force
Screw-actuated wedge action reliably locks board module assemblies into place
Maximum thermal transfer with optimum contact between thermal paths on board and heat-sinking surface
Shock and vibration resistant with secure wedge action design
Zero insertion and extraction force on board due to screw actuation
Alignment spring feature returns wedge bodies to relaxed position upon unclamping
Two-level maintenance compliant for demanding military applications
Available in 5.72 mm x 6.60 mm (.225" x .260", Series 223) and 5.33 mm x 6.99 mm (.210" x .275", Series 224) profiles
Five-piece design provides an industry-leading clamping force of up to 350 lbs
Chemical Film Finish, Gold per MIL-C-5541, Class 1A
Chemical Film Finish, Clear per MIL-DTL-5541, Class 3, Type II
Black Anodize per MIL-8625, Class 2, Type II: Delivers good corrosion resistance and medium abrasion resistance
Hard Black Anodize per MIL-8625, Class 2, Type III: Boasts excellent corrosion and abrasion resistance
Electroless Nickel Plate per MIL-C-26074, Class 1, Grade B, Bright: Combines excellent corrosion protection with good electrical conductivity and low friction
Custom options, such as three-piece assemblies and non-standard mounting patterns and finishes
Applications
Military
Mission-Critical Electronic Devices
You have successfully added from to your part list.
---