Anti-vandal Switch Rated to IP65
Product Announcement from Schuster Electronics, Inc.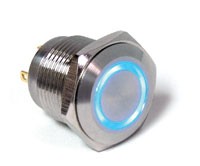 PV6 Series Anti-vandal Switch Rated to IP65...
Schuster Electronics offers E-Switch - Lamb Industries
Anti-Vandal Switches E-Switch-Lamb Industries newest category of switch is a tough group to beat... literally. The bodies of our anti-vandal switch are made from solid brass or stainless steel to be damage resistant. Other options include various actuator options, illumination in various colors, and water protection. All of their anti-vandal switches are RoHS Compliant.
One of the newest is the PV6 series anti-vandal switch. The PV6 series switch is vandal and water resistant (to IP-65 standards) and has multiple illumination options.
The PV6 Series anti-vandal pushbutton switch features a metal body and actuator with a 16mm diameter panel cutout. The switch body of the PV6 is conveniently compact. This switch is also available with dot or ring illumination in numerous colors. Bi-color illumination is also available on this switch.
Rating 2A 48VDC
Function 1P1T
Panel Cutout 16.0mm Diameter
Contact Resistance Initial: 50mΩ Max. at 1A 12VDC
Insulation Resistance 1,000MΩ Min. at 500VDC
Dielectric Strength 2,000VAC for 1 Minute
Electrical Life 50,000 Cycles Min.
Mechanical Life 1,000,000 Cycles Min.
Temperature Range -20°C to 55°C
Ingress Protection IP65
Markets: Markets for the PV6 series anti-vandal switch include elevators, public ticket dispensers, kiosk applications, and security panels, among others.
E-Switch, Inc., in 2009, acquired Lamb Industries and now offers one of the broadest switch lines available today. Both companies have been delivering innovative and quality switches to the electronics, telecom, high tech, instrumentation, industrial, appliance and consumer markets since 1979. Located in Minneapolis, Minnesota, and Portland, Oregon, their global reach extends to Europe, Asia and Latin America. Products include Rocker, Toggle, Slide, Tact, Pushbutton, Dip, Rotary, Keylock, Snap Action, Power, Illuminated switches, and more. E-Switch - Lamb Industries has local reps, distributors, engineers and account managers on hand to provide specifying assistance and quick response to requests, along with a top notch sampling and cross-referencing program. E-Switch - Lamb Industries' online catalogs include complete specifications drawings and schematics.
Visit Schuster Electronics or contact your Schuster Sales Representative today at 800-521-1358 or 800-877-6875 for more information.
---