High Speed Edge Card Solutions
Product Announcement from Schuster Electronics, Inc.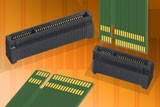 Samtec has expanded its line of high speed edge card solutions to include a new high density socket featuring a bi-level mating design. Two levels of contacts are staggered on 1mm (.0394") centerline which creates a card effective 0,5mm (.0197") pitch. Schuster Electronics offers their BEC5 Series High Density Edge Card Socket, which is ideal for high speed applications benefiting from its rugged Edge Rate™ contacts. Samtec's Edge Rate™ Contacts are designed for superior impedance control and reduced broadside coupling with increased durability and cycle life. Features include:
High Speed Edge Rate™ contacts
Accepts .062" (1,60mm) and .094" (2,40mm) thick cards
Lead-Free Solder Crimps
Weld Tab
Available with 60, 80, 100, 120, 140 ,160, 180 and 200 positions
Visit Schuster Electronics or contact your Schuster Sales Representative today at 800-521-1358 or 800-877-6875 for more information.
---