PCB Connector with Push-In Technology Connection
Product Announcement from Schuster Electronics, Inc.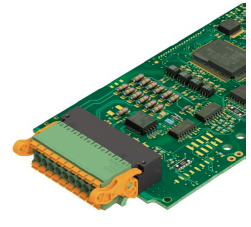 Schuster Electronics introduces a new line of stacked headers and plugs from Phoenix Contact that provide a higher density application than previously available in a European-style terminal block.
The DFMC plugs contain the popular Push-In Technology wire termination system. The advantage is reduced assembly time and labor costs, thanks to direct push-in of solid or ferruled wires without the use of tools. The plugs come in three styles, no latches, screw latches or lock-and-release latch styles.
Headers are available in horizontal or vertical PCB mount. The header with high temperature LCP housings can be applied in either pin-in-paste reflow or wave solder processes. Headers can be supplied in tape-on-reel packaging for automated pick and place assembly.
Features & Benefits include:
Push-in spring technology for fast wire assembly
20 percent space saving on the PCB
Insert molded header with accurate pin placement for high pick-and-place yields
Alternative latching options for flexibility in application needs
Compatible to MC family "footprint"
Technical data:
24 to 16 AWG
8 A and 150 V rating
Spacing: 3.5 mm
Height of plug: 13.5 mm
Horizontal header height: 10.8 mm
Vertical header height: 10 mm
Visit Schuster Electronics or contact your Schuster Sales Representative today at 800-521-1358 or 800-877-6875 for more information.
---