World's Smallest Cable-to-Board Coaxial Connector
Product Announcement from Schuster Electronics, Inc.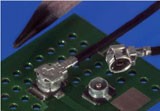 Schuster Electronics offers the new AYU-1 Series connector from JST, the world's smallest cable-to-board coaxial connector. These extremely small and low profile connectors have a mounting area of only 3.00 mm (.118") x 3 mm (.118") on PCB and 2 mm (.079") height when mated with applicable cable plug resulting in significant space savings.
Designed for applications operating from DC to 3Ghz, these SMT connectors are ideal for high density telecommunications equipment. Embossed tape packaging provides production efficiency via pick and place assembly machines. Specifications include:
Excellent frequency performance with a V.S.W.R. of 1.3 max. or less, existing in a frequency range from DC up to 3 Ghz.
50 impedance rating and operating between a range of .045 Ghz to 3 Ghz
Offer comparable performance to that of much larger coax types
Dielectric Withstanding Voltage is AC 150V r.m.s.
Temperature range is -200 to +900C.
Applications: ideal for high density telecommunications equipment such as; cellular phones, PDA's, Wireless Data Collection Devices, etc.
Visit the Schuster Electronics website or contact a sales representative at 800-877-6875.
---