Product Announcement from Scott Rotary Seals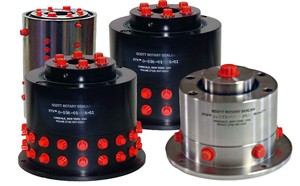 Scott Rotary Seals® provides a total engineering service to supply products for each customer's unique requirements. They design and manufacture these Rotary Timing Valves (RTV®) for a wide range of industrial applications from pharmaceutical to machine operations including semi-conductor processing and glass making.
The RTV® can replace cam-operated and solenoid valves formerly used for sequence control. Control system design can be greatly simplified since the sequence is permanently machined into a single valve.
Scott Rotary Seals® custom designed timing or sequencing valves include the cylindrical and disk configurations. Selection depends on the characteristics of the particular fluid, operating pressure, speed and requirements of the user's equipment. Flanges can be added for attachment to an indexing table or other rotary elements. Hollow bores can be incorporated for mounting on a shaft end or a through shaft. Designs can include multiple fluids, venting, thru holes for mounting slip rings, and full 360° flow for combining other fluid in the same valve.
See examples of Scott Rotary Seals® custom designed Rotary Timing Valves.
Standard timing accuracy is within 1 - 2 degrees but higher precision is available if needed. All Rotary Timing Valves (RTV®) are shipped fully tested, lubricated and ready for installation with complete instructions.
About Scott Rotary Seals®:
Since 1960, Scott Rotary Seals® has solved a wide range of challenging industrial applications as a result of our design and manufacture of Rotating Unions and Rotary Timing Valve (RTV®) products. These are also known as rotary couplings, manifolds, rotary joints, rotary seals and sequencing valves.
Please click on the links to the right for more information or contact Scott Rotary Seals® today!
You have successfully added from to your part list.
---