Product Announcement from Sealcon LLC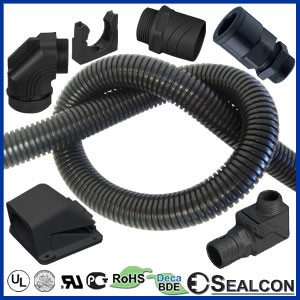 SM - Liquid Tight Straight & EM - 90° Snap Elbow
Fastest Installation of flexible NYLON Conduit. Meets NEMA 4X. Optional O-Ring or Seal Ring. Simply push flexible conduit into the fitting. The locking hook retains it securely in position. To remove conduit, lift outside recessed tab with screwdriver. ATEX, Ex, Ex-e, Ex-d certified Conduit System available.
Threads: NPT, Metric & PG. Materials: Nylon 6/6
Approvals: UR, CE, German Lloyd, Russian Gost, RoHS, NEMA 4x & 2
The fastest and most labor saving method to connect Flexible Nylon Conduit to a Push-In Fitting. The Nylon Conduit is inserted into the fitting until the hook snaps over the ridge of the corrugated tubing. The Conduit can be mounted rigid for liquid tight (NEMA 4x) or turnable for non-liquid tight (NEMA 2). EM - 90° Snap Elbow Fittings combines the unique 90° Snap Elbow and Straight Push-In Fitting for easy installation of wires into an Elbow Fitting. The "Straight" Elbow is snapped together after the wires have been installed, resulting in a liquid tight 90° Elbow Fitting.
The Turn-to-Seal family consists of Conduit Fittings manufactured from high-grade polyamide. This design means that the fittings offer a high protection rating of IP 65 (NEMA 4). The fittings are completely pre-assembled and no additional parts such as cap nuts and clamping rings need to be fitted, ensuring reliability in assembly. The cable protection Conduit can be assembled quickly and easily by simply inserting the Conduit and turning the cap nut. The elbow has smooth inside walls, making the installation of cables and wires easy.
Types: Straight (ST) & 90° Snap Elbow (ET), NYLON 6/6 Conduit
Threads: NPT & PG
Approvals/Ratings: UR, German Lloyd, Russian Gost, RoHS, IP 65 (NEMA 4)
The SUPER-FLEX Conduit is made of a special plastic blend, greatly increasing the flex-life of the conduit. Due to its higher flexibility, it is an ideal solution for drag chain and robotics applications.
The STANDARD corrugated conduit is made of flame retardant Nylon. The conduit is suitable for fixed and moderate flexing installations.
Types: Standard & Super-flex, NYLON 6/6 Conduit
Threads: NPT & PG
Approvals/Ratings: UR, CE, German Lloyd, Russian Gost, RoHS, IP 65 (NEMA 4)
Sealcon also offers a huge variety of Liquid Tight Strain Relief, Circular Connectors, Industrial Enclosures and Cable Accessories. With our wide array of offered products, you can get everything you need all under one roof! Most of our standard products are also available in EEx-e and ATEX versions for hazardous duty locations.
WE PROVIDE CUSTOMERS WITH CABLE MANAGEMENT SOLUTIONS!
Quantity Discounts
No Minimum Orders
Same Day Shipping
Blanket Orders
Quick and Friendly Service
All Major Credit Cards
Call for your FREE Sample today
Let us help you spec in your application! Call us at 800-456-9012 / 303-699-1135 or visit our website. Sample your application today!Bottom of Form
You have successfully added from to your part list.
---