ISO 9001:2008 Certified for Manufacturing/Service
Product Announcement from SEEPEX Inc.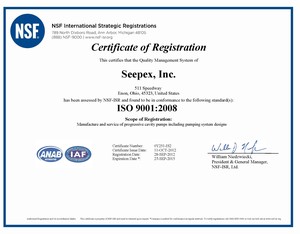 SEEPEX Inc. renews certifications as an ISO 9001:2008 Manufacturer in 2014. SEEPEX Inc. in Enon, Ohio has been audited again by NSF International Strategic Registrations, Ltd. and has met the quality requirements of ISO 9001:2008. The International Standards Organization (ISO) has stated that only manufacturing locations can meet the 9001:2008 designations. Assembly or fabrication locations must adhere to a unique set of regulations. ISO 9001:2008 is generally regarded globally as the highest level of attainable quality. The SEEPEX certification number on file with ISO is 0Y251-1. SEEPEX Inc. is a wholly owned subsidiary of SEEPEX GmbH + Co KG of Bottrop, Germany. The German manufacturing location has held the ISO 9001 designation since 1995. SEEPEX is a leading manufacturer of progressive cavity pumps with manufacturing operations on three continents, sales or subsidiary offices in 12 countries and agents in over 50 additional countries. For more information, contact SEEPEX Inc.
---