Intelligent Metering Pump
Product Announcement from SEEPEX Inc.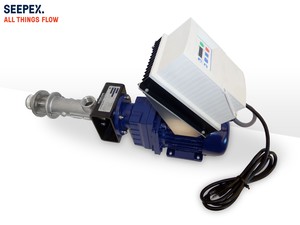 SEEPEX's MD metering/dosing progressive cavity pump line has been a staple of SEEPEX product offerings for decades. In an effort to continually improve on what is being offered, SEEPEX is proud to announce the Intelligent Metering Pump (IMP).
The new IMP design incorporates an Electronic Programming Module (EPM) memory chip on which parameters can be pre-configured. This makes replacement of a drive simple, quick and accurate. Simply insert the EPM chip from a previous drive into the new one for no downtime between stop and startups. A drive reset to factory default or customer settings takes no time at all. When the EPM equipped drive is used on a line containing multiple drives with identical setup, programming the entire line takes just minutes.
Each unit has a keypad on the controller lid equipped with operator elements for H-O-A selection, manual speed control, display of pump speed/RPM or flow, fault indication and the ability to change factory settings. Various accessories can easily be connected to the drive via the control terminals on the terminal strip inside the controller. A control module is also available as an option but it isn't needed when accessories are wired directly to the terminal strip.
The new design is up to 30% lighter and provides better performance with no starting issues. The largest MD pumps can operate over 18 hours at 60:1 performance without overheating. The vertical fins help with cooling.
The IMP design is available for SEEPEX MD metering and BW1 and BW2 wobble pump sizes and compliments SEEPEX's comprehensive line of pre-engineered chemical metering systems. SEEPEX chemical metering systems are for simple plug and play installation.
SEEPEX provides its customers with a newly developed service app for efficient pump maintenance.
With SEEPEX VR – the new free service app – our patented Smart Conveying Technology and the SEEPEX pump portfolio can be experienced in virtual and augmented reality.

The illustrated maintenance instructions for Smart Conveying Technology in virtual reality offer real added value for all service technicians. Every stage of the step-by-step pump maintenance process is quickly and simply shown. This reduces the number of errors and makes time-consuming reading of the manual unnecessary. Additionally, it significantly reduces the downtime of production facilities – a real cost advantage for SEEPEX customers. In the virtual showroom the user finds relevant information over the SEEPEX pump portfolio and receives informative application examples.

"With this app's development we stand at the beginning of a new path that we will consistently pursue in the coming years," explains Dr. Christian Hansen, Vice President of Engineering & Innovation. "Our development team is already working on the next development stages of the app. In order to provide our customers the best support on their journey to digitalization, we will further expand our offerings in the 'Internet of things' area and invest in intelligent pump technology," concludes Dr. Hansen.
HOW DO SEEPEX CUSTOMERS BENEFIT FROM SCT?
Increased productivity, reduced downtime
Reduction in maintenance time by up to 85 %
Integrated retensioning device resulting in up to 200 % increase of
rotor and stator life
Significantly reduced life cycle costs
Lighter components allowing faster maintenance and assembly /
disassembly with minimal manpower
High efficiency due to lower energy requirements
Simple maintenance without the need for special tools
Less space required for installation and essential maintenance as
suction and discharge pipework remain in place
Environmentally friendly as components can easily be recycled
watch>>>SCT video
Increased productivity and lower energy requirements: these two aren't mutually exclusive but complement each other in the latest generation of Smart Conveying Technology (SCT), the innovative technology for progressive cavity pumps.
SCT's big brother has arrived.
In addition to the well-established 1-stage design for pressures up to 4 bar, SCT is now available in a 2-stage design for pressures up to 8 bar which can be effortlessly reached.
At home in all industries.
Smart Conveying Technology was further advanced based on our customers' needs and is designed to meet requirements in the global market. SCT is a customized solution that is efficient, economical and environmentally friendly.
Strength and efficiency combined.
SCT delivers enhanced pump performance with a longer component service life and easy maintenance, reducing maintenance time by up to 85%.
Product launch. This unique SEEPEX pump with an intelligent tensioning system, created for higher pressures, was presented to the public for the first time in June 2015.
The following features make this innovative pump technology your perfect solution. At a glance:
Higher efficiency
Lower power requirement
Reduction in maintenance time by up to 85%
Up to 200% increase of the rotor and stator life
Readjustable when wear occurs
Built-in lifting aids
No special tools are required
Reduced risk of ragging
But that's not all. Want more? The new Smart Conveying Technology is ready for you:
SEEPEX is a leading worldwide specialist in pump technology. Our progressive cavity pumps, macerators and control systems are used wherever low to highly viscous, aggressive or abrasive media must be conveyed at low pulsation rates – we keep everything flowing. Customers choose us because we offer excellent, reliable and cost-efficient solutions.
---