Smart Conveying Technology
Product Announcement from SEEPEX Inc.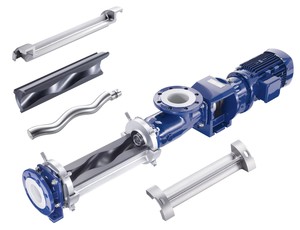 With the "Smart Stator Technology", created in 2008, we introduced a conveying solution which significantly reduces maintenance, assembly and dismantling times for your pumps and allows substantial cuts to pump life cycle costs. By separating the Smart Stator into two halves, we radically optimized pumping technology. Since it was launched, this globally patent pending innovation has been successfully installed in thousands of pump installations. Your satisfaction with this technology has spurred us on to generate even greater time savings in your conveying process. Our aim has always been to develop conveying solutions for global markets which are efficient, economical and ecologically friendly. This holds true today. Intelligent technology can unlock enormous potential, from which both your company and our environment can reap the rewards. All this is reflected in the "Smart Conveying Technology" - the next logical development after Smart Stator Technology - now further improved by the ability to replace the rotor in just a few easy steps, requiring minimal time. The speed with which this can be performed is amazing - you could reduce your assembly time by up to 85 %. This brochure describes in detail the extra possibilities provided by the new technology and gives a comprehensive explanation of the potential this innovation offers. "Smart Conveying Technology" provides the fastest possible maintenance times for your pump. Assembling and dismantling seepex pumps has never been easier, and the life cycle costs of our pumping solutions have never been lower. Progressive cavity pumps with "Smart Conveying Technology" can transfer a variety of products in almost every fluid process. With this innovation, we guarantee that your conveying product will reach its destination with less cost.
---