Product Announcement from Select Fabricators, Inc.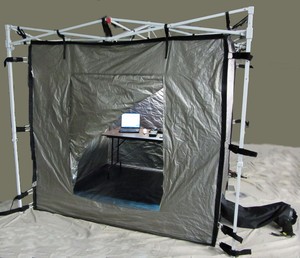 Select Fabricators, Inc. constructs (patent pending) RF shielded (Faraday cage) enclosures and pouches from highly conductive materials for:
802.11a/b/g/n WLAN, WIFI Testing
3G, 4G, LTE Cellular Device Testing
Bluetooth, Zigbee, RFID Testing
Secure communications
Temporary EM shielding
Medical equipment shielding
Pre-compliance testing
Select-A-Shield RF shielded enclosures are simple to set up with lightweight frames.
Sizes range from table tops to 20' by 40' enclosures as well as key fob to briefcase size pouches.
RF shielded enclosures and pouches are constructed in the USA with US made durable, lightweight, Silver/Copper/Nickel fabric. This flexible material offers an average of -85 dB of shielding effectiveness in the range of 30 Mhz to 1 Ghz and -80 dB from 1 Ghz to 11 Ghz.
Portable RF Shielded Enclosure (patent pending) Standard Features
Highly conductive, single or double layer Silver/Copper/Nickel fabric
Conductive fabric floor sandwiched between two layers of durable reinforced coated vinyl
One door with an approximate O.D. 58" wide x 64.5" vertical opening
One cable sleeve
Frame (Easy-Up Steel or Custom Extruded Aluminum)
Durable Storage and Transportation Tent Bag
Assembly Instructions
Mobile RF Shielded Enclosure Options
ESD interior liner
Multiple door entry systems
LED interior perimeter lighting system
EMI hardened stringed lighting
Wall mounted I/O plate
RF Shielded filter box with cable sleeve
Intake and exhaust EMI shielding honeycomb panels for ventilation
Air conditioning systems
Cleanroom compatible
Testing of complete tent in accordance with IEEE 299
Durable hard case storage and transport frame cases
You have successfully added from to your part list.
---