Gas Standards
Product Announcement from Sherry Laboratories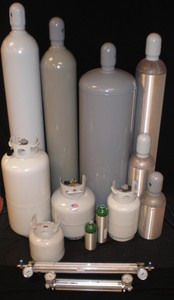 Manufacturing calibration gas, gas standards, gas blends and liquid blends is performed at our Petrochemical facility. The certified reference standards manufactured at Sherry Laboratories are blended with expert craftmanship and traceable to the superior expectations outlined by the National Institute of Standards Technology for calibration of custom gravimetric research. Sherry Laboratories is a member of the Gas Processors Suppliers Association (GPSA) and maintains an active role in the development of GPA standards. Sherry Laboratories is committed to helping you choose the optimum standards for your application:
Natural Gas Blends
GPA and Custody Transfer Chromatographic Standards
BTU Determination
Aromatic Mixtures
Petrochemical Mixtures
HRVOC Blends
Refinery Gas Mixtures
Safety Mixtures
NGL Materials
LPG Applications
Custom Gravimetric Heavy End Formulations
Proprietary Manufactured Heavy Ends Available
On-line Chromatograph Calibration Gas
Accessories
We provide, liquid calibration and other measurement tools to natural gas exploration companies as well as offer a broad line of cylinders, fittings, regulators, heating blankets, manifold systems and more. Please contact us at 337.232.3568 for accurate and up-to-date pricing and product availability. A complete listing of products we represent can be found at www.asge-online.com.
Service
Sherry Laboratories has committed resources, assets, and product development to the specialty gas industry since 1997. Both domestically and abroad, Sherry is dedicated to providing cost effective solutions and customer service excellence.
Sherry Laboratories guarantees a 10-day turnaround time for most blends.
Sherry Laboratories provides Certificates of Analysis. A Material Safety Data Sheet (MSDS) is also available upon request.
Sherry Laboratories provides Cylinder Maintenance Services.
We welcome the opportunity to provide you a discuss how we can help.
---