Product Announcement from Sherwin-Williams Protective & Marine Coatings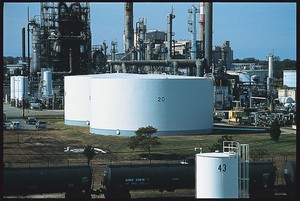 CLEVELAND, Ohio (April 14, 2008) - Sherwin-Williams Protective and Marine Coatings has introduced ExpressCote HCR, a chemical resistant glass flake-filled epoxy novolac lining. It is specifically designed to protect steel and concrete from chemicals and solvents at ambient and elevated temperatures for the petrochemical, waste water, power generation and marine markets.
Compared to conventional epoxy coatings, ExpressCote HCR offers a rapid return to service, allowing return to full service in as little as 24 hours and "walk-on" condition within five hours when applied at 77 degrees F/50%RH). This 100% solids epoxy has no volatile organic compounds, and offers one-coat protection up to 50 mils and edge retention exceeding 70%.
ExpressCote HCR makes it easy to avoid pinholes or holidays and to assure proper film thickness by utilizing Sherwin-Williams proven Opti-Check OAP technology. When the coating is inspected under an LED light, the pigment will fluoresce or glow. Pinholes, holidays and improper film thickness will either appear black in contrast to the fluorescing coating, or not as bright due to insufficient film thickness, allowing corrections to be made before a tank or pipeline is placed into or returned to service. Inspection can even take place during application, saving time and identifying areas needing repair.
"ExpressCote HCR offers long lasting performance under severe conditions and minimizes downtime," said W. Doni Riddle, Vice President, Sherwin-Williams Industrial & Marine Coatings. "It protects against harsh chemicals and solvents, and can be used in elevated temperature environments, making it ideal for use in the petrochemical market."
You have successfully added from to your part list.
---