NEW!! C2-111 Security Awning Light with PIR Sensor
Product Announcement from Shin Chin Industrial Co., Ltd.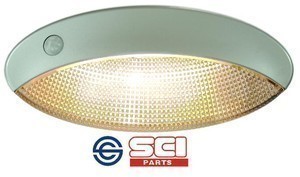 ★ Unavailable in European market. ★
Features
Built in passive infrared movement detector.
Automative activation from dusk to dawn.
Adjustable time of illumination, 20 sec. max., once activated.
Effective detected area: 3 meters from sensor.
Motion detector light only activated during darkness.
Without PIR sensor is available as well.
Specification
Rating: 12V DC
Lamp:

Bulb: 9W/2G7/2800K
LED: 10 pcs X 0.3W (4000K)

Color available: White, Satin
Protection from dust & water: IP54
Certification: E-mark
Dimension: 300mm(L) x 130mm(W) x 38.5mm(H)
Operation
Connect wires to power control
**********************************************
Seeking a agent for Central and South American
Distributor wanted for Brazil.
**********************************************
*Welcome to make appointment with us before the show:
1. Lighting Fair 2011 (Mar. 08~11'11), Tokyo Big Sight, Japen, Booth No.: LF2006-6.
2. Taipei AMPA 2011 Show (Apr.12~15'11), TWTC Nangang Exhibition Hall, Taiwan, Booth No.: K316~320 / 415~419
3. Automec 2011 Show (Apr. 13~16'11), Anhembi Pavilion, Sao Paulo, Brazil.
4. Auto Shanghai 2011 Show (Apr. 19~28'11), Sinec Shanghai, China.
5. The 20th Int'l Optoelectronics Expositions (Jun. 14~16'11), TWTC Nangang Exhibition Hall, Taiwan.
6. 2011 Taitronics Show (Oct.11~14'11), TWTC Nangang Exhibition Hall, Taiwan.
7. Hong Kong Electronics Fair 2011 (Oct.13~16'11), Hong Kong Convention & Exhibition Centre.
8. 2011 AAPEX (Nov. 01~03'11), Las Vegas Sands expo Center, U.S.A..
**********************************************
---