The ShurSEAL® Solution - Carton Sealing System
Product Announcement from Shurtape Technologies, LLC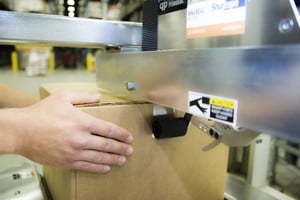 You know the value of uptime – and you demand packaging equipment that will help you achieve more efficiency on the line, as well as deliver a quality seal you can rely on. The ShurSEAL® Solution – combining Shurtape® HP Series packaging tape with a PrimeLoc™ tape applicator– is a packaging solution engineered for better performance and efficiency – producing a consistent and secure seal, carton after carton.
Shurtape HP Series Packaging Tape
For maximum performance and efficiency, The ShurSEAL Solution features Shurtape HP Series packaging tape. These hot melt carton sealing tapes have the highest holding power to fiberboard in the industry and perform reliably down to the core to give you the consistent and secure seal you demand.
PrimeLoc™ Tape Applicators
The ShurSEAL Solution is complete with tape applicators that are optimized for high-speed automated case sealing and are easily retrofitted to all leading brands of case erecting and case sealing equipment, so there's no need to purchase new equipment. They offer a variety of innovative and efficient features, including:
Unmatched wipe-down force: multiple flexible wipe-down points allow for full utilization of the tape's adhesive to form a secure seal, even on under-filled cartons. This also provides increased fiber tear when the tape is removed, offering tamper-evident security.
Edge folding option: Folded-Edge Technology creates a secure, easy-to-open seal that doesn't require a knife. The folded-edge runs the entire length of the carton as the tape is applied. The double-thick edges increase the thickness of the tape at its most vulnerable failure point – where the tape folds over the edge of the carton. The folded-edge feature is especially handy for retail packaged products and high-value merchandise where you don't want to damage package contents when opening the carton with a sharp blade.
High speed: runs at line speeds up to 180 feet per minute.
Other features include a dual-axis locking mandrel, front and rear tab length adjustment and a self-cleaning safety blade.
The tape applicators are built tough to resist corrosion and are easy to load. For more information, visit ShurSEALSecure.com.
Watch our video to learn more about the essence of the Shurtape brand
find us on Facebook® or follow us on Twitter®.
At Shurtape, we design, develop and craft our tape to one simple standard. Yours. We know you demand attention to every detail. We know you strive to do the next job better than the last. We know you won't settle for anything less than exact. It's what has guided and inspired us every day since 1955.
Created in North Carolina as Shurtape Technologies LLC, we're a privately owned company proudly serving a variety of markets, from painting and packaging to HVAC and transportation. And we continually remain engaged with our markets and the customers and craftsmen who use our tape so we can deliver what they need. To the absolute highest standards.
As we continue to grow, the basis of our success remains the same: our relationships with our customers and craftsmen. We're grateful that so many of you have been intensely loyal. It's why we demand consistent product performance, on-time delivery and relentless customer service. It's also why we never stop investing in improving our manufacturing, our products and our distribution.
In other words, we work to do our job the way you do yours.
Shurtape Products Browse By Market:
Find us on Facebook® or follow us on Twitter®.
You have successfully added from to your part list.
You need Flash player 8+ and JavaScript enabled to view the The ShurSEAL® Solution - Carton Sealing System video.
Get the Latest Flash player.
---