Product Announcement from Sierra Instruments, Inc.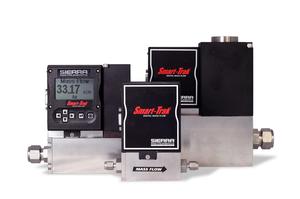 Smart -Trak® 2 is the next generation of our flagship Model 100. Building upon unprecedented performance, user-friendliness and flexibility of innovative features like Dial-A-Gas capability and the Pilot Module interface, Smart Trak 2 gives users the world's most linear sensor, smoother valve performance, more robust electronics and even more control over a wide range of functions.
The result is a series of mass flow meters and controllers that demonstrates premium flow instrumentation doesn't have to be difficult to use.
Smart -Trak 2 is designed so that the physics are correct. Excellent performance results from a patented, inherently linear Laminar Flow Element (LFE) design, advanced platinum sensor technology, and Sierra's proprietary frictionless-hovering control valve. Smart-Trak 2 is available with an innovative and user-friendly Pilot Module, a front-mounted or hand-held control device that allows users to Dial-A-Gas®, change flow rate, modify engineering units or re-configure the instrument. With the Pilot Module, the user can set zero, span and full scale for each of 10 different gases independently to accommodate unexpected application or system design changes.
With the addition of Sierra's Compod, Smart Trak 2 transforms into a fully network-enabled MODBUS RTU device. Just like the award-winning original, Smart-Trak 2 delivers performance, flexibility and value.
Click here to see our case study
ABOUT SIERRASierra is one of the most trusted manufacturers of high performance flow meters and controllers today. By combining superior product quality with a talented global support network of flow experts in 47 countries, Sierra consistently delivers quality flow measurement solutions for each customer.
Visit us at www.sierrainstruments.com or call us at 800-866-0200 to learn more.
You have successfully added from to your part list.

Play Smart-Trak2 Video
---