Medical Device Quality Test Systems
Product Announcement from Signalysis, Inc.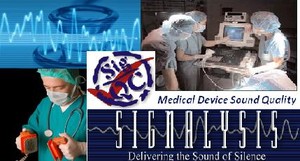 Noise & vibration in medical equipment can impact patient comfort & safety. For example noise from defective gears/bearings often scare patients into moving during x-ray scans, resulting in a second dose of radiation to get the right picture. And vibration in medical tools make physicians tasks challenging. Signalysis' Production Test Systems identify such quality issues during production.
The IQC Production Test System is designed to perform 100% inspection of medical devices for vibration & noise defects. The system replaces subjective tests with an arsenal of signature analysis algorithms that objectively identify quality issues at early stages in the production line.
In today's sophisticated medical devices sound quality is an important factor.
From equipment alarms that alert medical staff to drug delivery systems that talk patients through their use, IQC Noise testing applies signature identification to assembly line manufacturing QA processes measuring these functional parameters of products. Our signature analysis module can make sure medical devices are delivering the sounds that the doctor ordered.
Learn more about our solutions for the medical equipment sector - visit our website via the links on the left - or e mail us. We welcome your inquiries
You have successfully added from to your part list.
---