Noise & Vibration = Product Quality Perception
Product Announcement from Signalysis, Inc.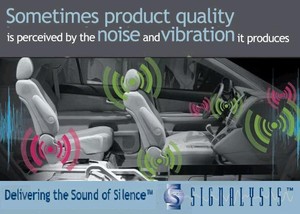 Sometimes product quality is perceived by the noise & vibration it produces…
A strange whir, click or tick, growl or rumble, or worse - those other objectionable noises. Your customer can complain about a lot of issues, don't let noise and vibration be one of them. At SIGNALYSIS we use IQC and our toolbox of robust metrics to accurately pinpoint those subjective quality issues, before they become a customer complaint
Learn more - click here to visit our website or use the links on the left to e mail us
IQC is a production line test system from Signalysis, Inc., that provides automatic assembly line Pass/Fail of products based on mechanical vibration characteristics, analysis of functional electrical signals, and other measured and computed quantities. Pass/fail status may be determined from a direct comparison of measured data to a threshold level. Or, using advanced analytical methods, the pass/fail status is established by comparison of signal processed results to any of a wide range of statistics-based target functions derived either from the frequency domain or time domain.
IQC represents a turnkey solution dropped right into the assembly line test station. IQC has proved invaluable when it comes to sound & vibration testing. Data is acquired through one of the supported IQC acquisition systems and then analyzed and compared to acceptable performance standards for the component. The flexibility and adaptability of SigQC, the software component, with the data processing options provides manufacturers with the competitive advantage needed in today's markets
You have successfully added from to your part list.
---