Si477x High-Performance AM/FM Radio Receivers
Product Announcement from Silicon Labs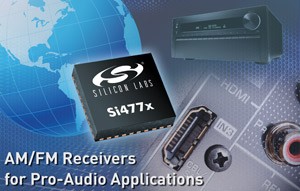 Designed by the RF team at Silicon Labs specifically for the pro-audio market, the new Si477x digital low-IF AM/FM receiver family is built to address high-end consumer audio/video receiver equipment. High-end consumer and professional audio (pro-audio) equipment represents a specialized and performance-driven market that benefits from the talents of passionate engineers and designers who concentrate on delivering the highest fidelity sound quality possible.

The Si477x family reduces system cost and bill of materials count while ensuring outstanding RF performance:
Fully integrated AM/FM front-end including high performance LNA, AGC with integrated resistor and capacitor banks, and RF and IF peak detectors
Highly refined and dynamic RF input filtering and audio conditioning for the cleanest, lowest noise output
Unsurpassed RF sensitivity (-3.5 dBµV; tune signals down to 0.67 µV), channel selectivity (65 dB at ±100 kHz and 75 dB at ±200 kHz) and linearity (IP3 of 117 dBµV with sensitivity at -3.5 dBµV at full RF gain)
On-chip FM channel equalizer significantly reduces audio distortion and a lower level of sound-compromising mitigation applied to the audio, such as stereo-mono blend, hi-cut/hi-blend and soft mute

Get the Si477x High-Performance Broadcast Radio Receiver and HD Radio Tuner data sheet!
http://www.silabs.com/Support%20Documents/TechnicalDocs/Si4770-77-A20.pdf
You have successfully added from to your part list.
---