PumpLinx Software
Product Announcement from Simerics, Inc.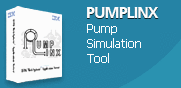 PumpLinx is a virtual CFD test bed, uniquely suited for the analysis of pumps, valves, motors, compressors, and other fluid devices with rotating or sliding components. It provides rigorous and robust simulation of flow, pressure, and cavitation in a device.
PumpLinx provides unique insight over hardware testing by allowing the engineer to see inside the component with straightforward analysis.
· 3D views inside the pump
· Performance curves
· Cavitation and aeration: cavitation damage locations, effect on performance, NPSHr
· Loads
· Pressure Ripple
· And so much more…
PumpLinx was developed because existing CFD software solutions were slow, hard to use, and required CFD experts to operate. PumpLinx was developed with design and product engineers in mind, and is fast and easy to use, even with minimal experience in CFD.
Call Simerics and arrange an online demonstration of PumpLinx. It will only take 45 minutes to discover why the largest manufacturers of pumps, valves, and hydraulic systems have chosen PumpLinx.
---