Product Announcement from Freudenberg-NOK Sealing Technologies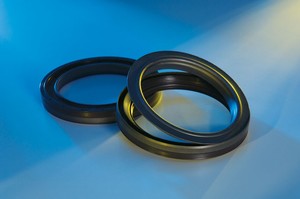 World-class manufacturing
Simrit standard and custom radial shaft seals are produced in the world-class manufacturing plants of the Freudenberg and NOK Group. By using our proprietary compounds, specialized designs, consistent manufacturing processes and Six-Sigma quality standards, we can assure our customers of the most robust and reliable products available in the market.
Increased Seals Longevity
Typical radial shaft seals (i.e. TC design) can function under pressure up to 5 psi. When operating pressures exceed this level, seal life becomes dramatically reduced due to the added friction and heat, unless the seal is designed to accommodate this high pressure condition.
Our standard line of TCV, BABSL and TCN, medium and high pressure seals have a proven track record in a variety of pressure and speed applications.
Simrit Radial Shaft Seals—provide reliable sealing under a variety of operating conditions:
40,000 tooled inch and metric sizes
Both metal and rubber O.D. seals available
Low, medium and high pressure designs
Experts in matching seal to application
Custom designs to solve any sealing challenge
CASCO Cassette Shaft Seals
CASCO is a cassette or self-contained seal design. It integrates sealing elements and their contact surface in a single cartridge that press-fits into the bore with complimentary assembly tools. Unlike many seal concepts, the main lip is axially loaded. CASCO was developed specifically to extend seal life while solving difficult operating conditions including dynamic end play and radial run-out. In many cases it does this while reducing overall seal system costs. CASCO also lowers friction torque and power loss.
Benefits of CASCO Seals:
Long service life potential
Extremely low torque drag even at surface speeds up to 30 m/s

Very low heat generation
Greatly reduces risk of oil carbonization
Excellent wear resistance

Oil retention is enhanced by centrifugal 'slinger' action of the wear sleeve
Proprietary FKM main lip compound has very good compatibility with lubricating oils and additives
Sealing performance is maintained even when contaminated oils are present
Accommodates end play, high shaft eccentricities and vibration
Integrated wear sleeve effectively lowers the complete system cost

No expensive shaft finish, hardening or special surface treatment is required
No need for shaft re-machining when seal is replaced
No risk of sealing lip damage during handling and assembly
You have successfully added from to your part list.
---