Fluorocarbon Compounds for Semiconductor Sealing
Product Announcement from Freudenberg-NOK Sealing Technologies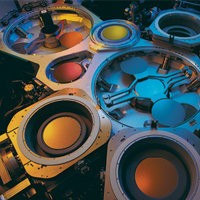 Freudenberg-NOK Sealing Technologies Introduces New Fluorocarbon Compounds for Demanding Semiconductor Sealing
VO628 and VO793 materials offer extremely high-purity with ultra-low metal ion impurities.
As the fast-paced semiconductor industry continually develops the latest microelectronics innovations, smaller components - such as seals - are an often overlooked, but extremely critical, part of the process.
With their high-purity and low metal ion impurities, both critical to ensuring that no contaminants go into the clean-room production of semiconductor wafers and chips, Simrit's VO628 and VO793 materials were created specifically for use in semiconductor fabrication processes. Both materials can be utilized in a variety of products including O-rings and bonded gates.
"As a materials specialist, it is our job to ensure industry innovations are possible by developing compounds that can withstand the evolving chemicals, temperatures and materials that threaten traditional semiconductor applications," said Robert W. Keller, materials development manager, Freudenberg-NOK. "Our latest material developments, VO628 and VO793, offer superior purity while still providing the extreme performance requirements the semiconductor industry demands."
VO628 is a 65 nominal Shore A hardness FKM compound, while VO793 is a 75 nominal Shore A hardness FKM compound. Both materials are brown and made with no fillers and minimal metal ion impurities to offer superior high-temperature and long-term compression set characteristics compared to traditional FKM materials.
Offering excellent resistance to oxygen etch and oxygen plasma systems and performance in rapid pump-down high vacuum systems, VO628 and VO793 are useful in semiconductor applications requiring rapid development of high vacuum levels.
Freudenberg-NOK is part of the Freudenberg and NOK Group Companies, which have total annual sales of more than $7 billion. The global Freudenberg and NOK Group offers an extensive portfolio of precision-molded products for the aerospace, appliance, automotive, marine, medical, off-highway equipment, recreational vehicle and renewable energy markets.
---